Transcription Choices vs. Choice Transcription
Transcription Plus, LLC is proud of our 100% USA based offices & staff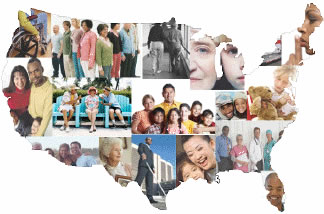 The outsourcing of transcription to offshore transcription companies is trendy nowadays. One of the most popular reasons for using offshore transcription is cost savings, but what is the cost of this so-called savings? You've heard and probably experienced "You get what you pay for."
It's true that HIPAA (Health Insurance Portability and Accountability Act) doesn't disallow outsourcing offshore; however, the countries to which it is outsourced are not bound by U.S. laws, and it could be difficult in the event of a breach to hold these offshore companies accountable.
Transcriptionists are (or should be) English-language specialists, with English as their 1st language and able to properly transcribe the English language from the spoken word. Let it be noted that one offshore transcription company boasts that their employees receive four months of training focusing on medical terminology and the English language. Did we mention getting what you pay for?
In any event, whatever transcription company you chose to transcribe your vital records, the following are a few questions those in the market for transcription services may want to ask:
1) Are audio and data files encrypted?
2) Are files stored in a server that is in the United States?
3) Who controls the information?
4) Where will the work be performed?
5) Are HIPAA guidelines being adhered to for medical transcription?
6) Who has access to the files?
7) Is English your transcriptionist's 1st language?
Security is a concern and is at the top of the list for most companies, and the above are just a few questions addressing that concern.
Be assured that Transcription Plus, LLC is Absolutely Accurate in upholding HIPAA regulations, keeping your information private, and providing you with experienced transcriptionists who are well versed in medical and legal terminology, with English as their 1st language.
If you are a valued customer, this is just a reminder how safe and secure your information continues to be with us.
And if you are looking to keep your information safe, then you will want to create an alliance with Transcription Plus, LLC today.
We are not only Absolutely Accurate but also Absolutely Secure. I am personally looking forward to hearing from you.
Mary
Mary A. Goehring
Owner/CEO
Transcription Plus, LLC
Corporate Office
40 Acorn Lane
Bristol, Connecticut 06010
Transcription Plus, LLC
860-583-2818