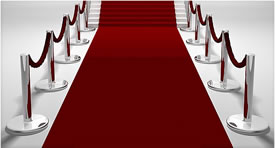 WALK THE

RED CARPET

WITH US

IN 2011
A RED CARPET RESOLUTION THAT'S EASY TO MAKE AND TO KEEP!

You deserve no less than ABSOLUTELY ACCURATE processing of all your documentation requirements.
Did you know that recent research regarding NEW YEARS RESOLUTIONS shows that while 52% of participants in a resolution study were confident of success with their goals, only 12% actually achieved their goals? Men achieved their goal 22% more often when they engaged in goal setting, (a system where small measurable goals are being set, such as a pound a week, instead of saying "lose weight"), while women succeeded 10% more when they made their goals public and got support from their friends.
Transcription Plus, LLC will guarantee that 100% of your GOAL to obtain ABSOLUTELY ACCURATE documentation for your facility will be met and you will never again dread trying to fill this void. Stop hesitating....Click here to compare us to others now!
Walk the RED CARPET with us....attain something special!
And don't forget our referral program....Click here to learn more.
Give me a call NOW! I can't wait to meet you!
About Us
Every member of our team possesses the following qualities and characteristics: Skilled at medical, legal, business, government transcription, highest degree of accuracy with attention to detail, self-motivated and self-starting, able to organize time, able to focus on work, dependable and reliable, with a strong commitment to confidentiality issues.
View our website here to learn more about our extraordinary staff.

Please contact me directly at 860-583-2818 or transcriptionplus@comcast.net.

Mary A. Goehring
Owner/CEO
Transcription Plus, LLC
Corporate Office
40 Acorn Lane
Bristol, Connecticut 06010
Transcription Plus, LLC
860-583-2818